PRE-MADE COURSES THAT INTEGRATE WITH YOUR ORGANIZATION'S LEARNING MANAGEMENT SYSTEM
Target Audience: Marketing, Product Designers, UI/UX, Front-End Developers, Interface Designers, Product Managers, Privacy Professionals
Target Audience: Software Architects, Product Designers, Software Engineers, Product Managers, Security Engineers, Privacy Engineers and other Technologists, Database designers and architects
Target Audience: Privacy Engineers and other Privacy Professionals, Software Developers, Managers, Architects and Engineers.
D100 and D101 courses suitable for all audiences. 
While design strategies help mitigate specific risks, the design process is a holistic approach to overall design
D211 - Proxies and Agents
This course dives deeper into the notion of proxies (of at-risk individuals) and agents (acting on behalf of threat actors
Learn how to mitigate risk factors with the Hoepman Strategies and Tactics (D111)
D201 - Models of Privacy Norms
This lesson extends the privacy harms to discuss other models of privacy norms beyond Solove.
Did you know that the full suite of Design courses are available as part of our Professional Development course offered multiple times a year? 
D321 - Diagramming Threats
This high-level course goes through a myriad of examples to diagram the threat landscape and uncover threats.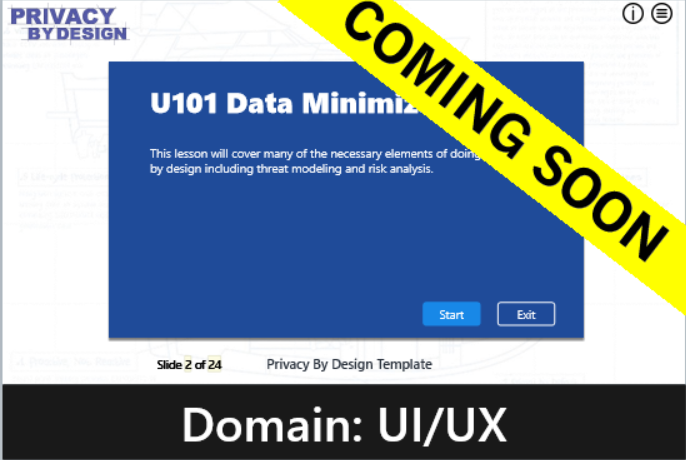 This lesson covers concepts in form design to minimize the information you collect.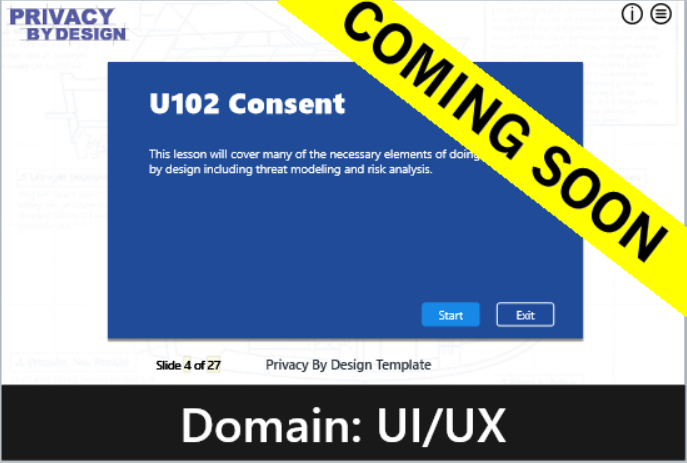 Consent is an ill-understood concept. This lesson explores consent, when it's necessary and how to obtain proper consent.
U104 - Notice Design Space
Informing people about their privacy occurs in many more ways that in a formal legalistic document. This lesson explores the design space: modality, channels, timing, and controls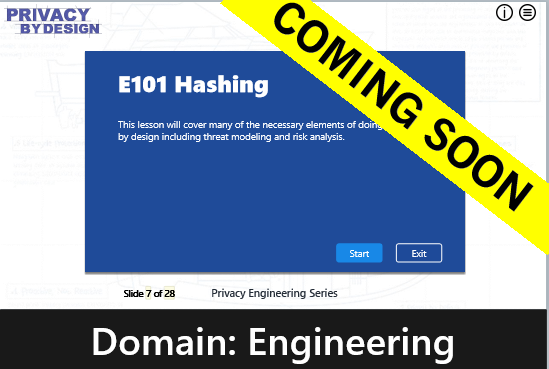 One-way functions
provide numerous
privacy protections.
This lesson
discusses some of
the use cases for
hashing as well as
common pitfalls.
E111 - Privacy Architecture
Privacy architecture
looks to reduce
privacy risks through
decentralization and
de-identification of
data.
E121 - Privacy Enhancing Technologies
PETs are a set of
technologies which have a primary purpose of preserving or enhancing privacy. This lesson covers the basics of the most popular PETs in use.
E131 - Anonimity, Pseudonymity & De-Identification
This lesson covers the syntactic
dataset measures of anonymity
and their proper use.
Hashing can be very unforgiving. Fuzzing hashing provides a way of preserving privacy while allowing for some flexibility.
E211 - Technical Policy Enforcement
This lesson covers various techniques to technically enforce policies in systems.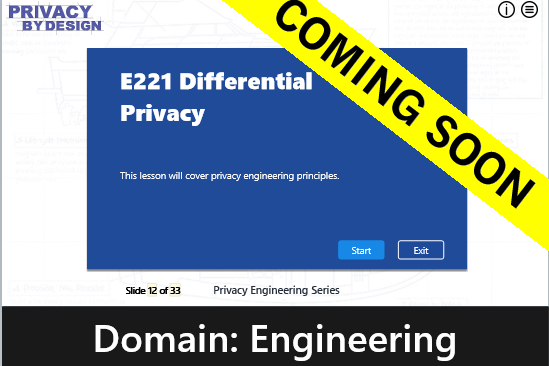 E221 - Differential Privacy
An introductory lesson into how differential privacy works and its potential applications.
E202 - Translucent Databases
Often times database needs to be accessible to some, like administrators, who don't need the underlying data. Translucent database provide protection.
E223 - Secure Multi- Party Computation
An introductory lesson into how Secure Multi-Party Computation works and its potential applications.
Individual License
through our LMS
(1 year of access)

Add general privacy awareness lessons from leading provider Teach Privacy. See Catalog.
Inclusive
You may select any of the TeachPrivacy courses as part of your 10 course selection
Contact to Add-On
TeachPrivacy courses must be added separately. Please note your interest in the order form. 
Organizational prices based on no customization and training hosted on your internal company Learning Management Systems (LMS)
Information submitted for this form will be used to contact you and provide you with any requested services. Information will not be shared unless payment for services are required, in which case we will provide information to billing vendors for the purposes of invoicing and receiving payment. You will not be placed on any mailing list, nor will you information be shared for marketing purposes.
"This course has expanded my understanding of not only the PbD principle, but the overall approach to thinking about privacy threats and risks. "